Spotlight on Theresa Mills
Stromberg Allen has had many exceptional long-term employees over the years who have contributed to our success and helped us create a corporate culture that celebrates honesty, integrity and reliably responsive customer service. No one else has contributed more than Theresa Mills, our long time Director of Customer Service.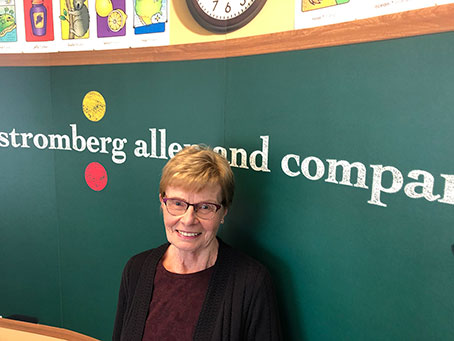 Theresa is a prime example of the difference a single dedicated employee can make in an
organization. She has been with Stromberg Allen for an amazing 50 years – when she retires in 2020 it will be 51.
Theresa joined the company as a "temp" from the Kelly Girl Agency in 1969. As Theresa tells it, she told her husband she was glad this was a temporary job – she was not too excited to be a clerk! But management saw that her intelligence, people skills and work ethic were extraordinary and asked her to come in on a permanent basis. She was quickly promoted from a temporary clerk to Accounts Payable manager. Other promotions to various departments followed, and Theresa moved up, learning and mastering each position.
In the 1970's, Theresa was the leader in establishing Stromberg Allen's rigorous Customer Service program. She recognized that transparency, reliability and responsiveness were key to the company's reputation. Theresa also formally established a Quality Control department, which ensures that our Customer Service department can turn on a dime with any production or delivery issues.
Theresa has been integral in shaping our company's core values and we look forward to carrying on her legacy of innovation, integrity and high-quality work. In addition to her long time work with Stromberg Allen, Theresa and her husband Stan have raised three extremely successful sons. They look forward to enjoying their grandchildren in the coming years.